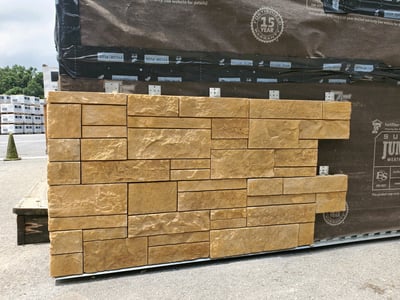 AIA Accredited Architectural Presentations
As an industry leader in stone veneer, Quality Stone Veneer, Inc. is constantly seeking new ways to innovate our product as well as ways to better meet the needs of our customers. Our wide variety of styles and colors provides the highest degree of realism in all of our products and allows us to make any vision a reality.
As a way to introduce the company and our product, Quality Stone Veneer offers an AIA accredited "Lunch and Learn" presentation. The presentation is about an hour in length and provides basic information on stone veneer in general as well as some details about our company.
Our Presentation includes the following topics:
How is Stone Veneer made?

Standard Styles and Colors

Waterproofing and underlayment

Project Customization

Installation of Stone Veneer per NCMA guidelines

Estimating Resources for Stone Veneer

The Quality Stone Veneer Patented Clip System™ Application

Quality Stone Veneer Architectural Resources
The presentation also includes lunch for all participants, provided by Quality Stone Veneer. Upon completion of the presentation, participants will receive an AIA credit and a certificate of completion of a Continuing Education Course.
Download our Architectural Resources by exploring the menu below.




Quality Stone Veneer would be happy to schedule a visit to your company to conduct a presentation on a date and time of your choosing. If interested in a QSV Lunch and Learn Presentation, please fill out the form below and submit. Our Marketing Department will contact you to set up the presentation.
Architectural Presentation Sign Up