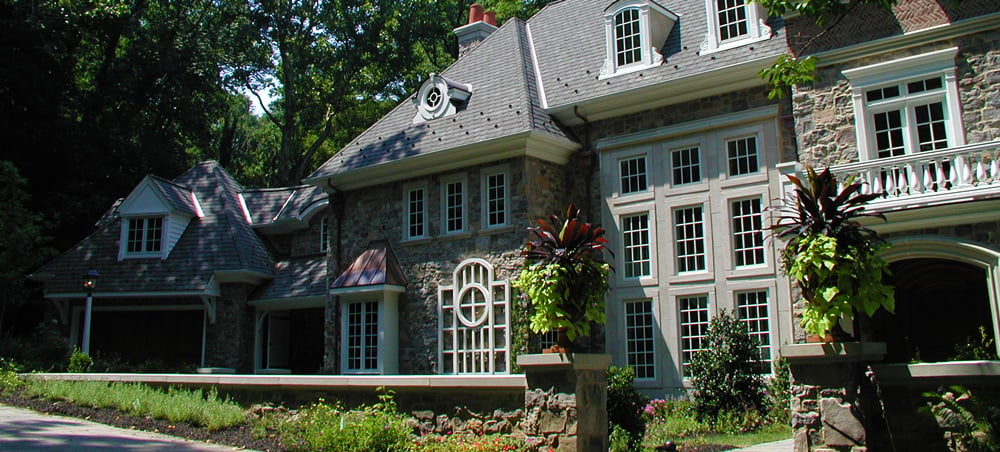 Frequently Asked Questions

50 Refton Road, Refton, PA 17568
General Service Hours
Monday-Friday
9AM - 5PM EST
How can we help?
Can't find an answer to your question below? Please Contact Us, we'll be happy to help.
What color selections are available for each style?
A vast majority of Quality Stone Veneer colorways and profiles are interchangeable, with some exceptions depending on the profile.
Traditional Styles (individual pieces of stone), primarily Drystack, Ohio Drystack, Cobblestone and Fieldstone styles all can be made in any Standard, Classic or Custom colorway shown on our website. These styles are commonly blended to create a design unique to the given project.
Standard colorways are our staple colors, are congruent with current building trends, come at our best price point, have the shortest lead time to manufacture, and offer a vast variety of tone and texture.
Classic colorways come at a slightly higher price point and an increased lead time to manufacture.
Custom colorways are any colors outside of these two categories above, often being one off colors QSV custom creates for a specific client or project. Custom colorways take additional development and resources to produce, and thus come at a custom price point, and longest lead time to manufacture.
Lambris Styles (Stone panels that can be either installed with the Clip System™, or traditionally installed with mortar and wire lath), primarily Drystack Lambris, Ohio Drystack Lambris, Cobblestone Lambris and Fieldstone Lambris are available to be manufactured in all Standard, Classic and Custom Colorways above following the same guidelines.
Thin Brick Styles being Metropolitan Brick, and Historic Brick have their own set of Standard Colorways.
Remaining Traditional Styles (Individual pieces of stone), being Cobble Sandstone, Ledgestone, Regal Ashlar and Brookstone all have their own designated standard colors they're available in shown on each of their product pages.
Remaining Lambris Styles, being Piedra Cortada, Siota Block, Urbana Fusion, Urbana Travertine, Apilada and Segovia all have their own designated lists of colorways they're available in as standard. Visit the individual style's product page to view available colors per the style.
What are some benefits to using Quality Stone Veneer's Products and Services?
Quality Stone Veneer is a turnkey company, meaning, we specialize in handing everything from the manufacturing of our own product, to shipping the product to the jobsite, to the product's installation, and everything in-between. We provide a single source of accountability for our customers, simplifying the steps it takes to achieve their dream project.
Core Focus: Safety, Quality Product, Installation Expertise & Customer Service

50 Year Warranty on flats and corners

10 Year Warranty on precast accessories

47 year family owned and operated business

500 years of combined industry experience behind our Leadership Team

Product cast from natural stone, by hand, in proprietary processes unique to our company

Unmatched detail in both product and installation

QSV has the ability to handle residential projects, all the way up through large commercial

Lightweight product

Cost Effective

Extensive library of products, with endless possibilities for customization

Easier and faster to install

No additional structural support required

Improve value and architectural appeal
Where is Quality Stone Veneer Located?
Quality Stone services all US states east of the Mississippi River!
Our showrooms, manufacturing plants, and distribution facilities are located throughout the East and can be found at our Contact Us page. Please request an appointment before coming to our showroom locations to be sure a representative can be present to help out.
Below is a coverage map showing our states of operation: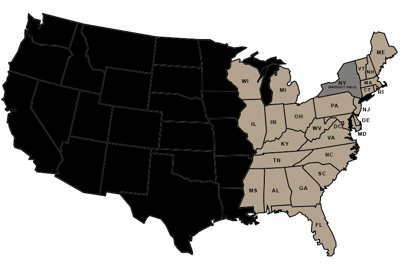 Updated 5.18.23
Does Quality Stone Veneer Install Stone?
Yes, Quality Stone Veneer offers installation, to code, under the National Concrete Masonry Association's national building standards for adhered stone veneer. In fact, a vast majority of our projects are turnkey product + install.
QSV installs on projects of all types, commercial real estate, custom homes, production homes, hospitality and retail, and everything in-between. We take pride in our ability to manage and install our work on large scale commercial multifamily, assisted living, and similar types of architecture.
Installation is offered in most all states of coverage, with the exception of New York. QSV only offers material sales in New York at this time. Certain restrictions in other states may apply based on project size, distance, and scope.
Can I get directions to projects that quality stone veneer has done?
Yes, by calling 1-800- 795-3229, you will be directed to an office closest to you, where a QSV employee will be able to find what you are looking for. Or, reach out to us on our Contact Us page where you can also view your closest local representative's direct contacts.
Are you available for custom projects?
Yes! We take a great specialty and pride in our custom work. Over the years we've worked hand in hand with thousands of customers to create finishes specific to their own project and vision. Our styles have the ability to be combined, meaning we can create a 100% unique look by blending different percentages of our styles and colorways. The majority of our colorways are interchangeable with a majority of our styles, leaving the possibilities near endless.
Add in more customization by selecting pieces from our massive library of handcrafted precast accents.
Most importantly our experts are available to help you hone in on your project goals, make recommendations to what we love best, provide crafted physical samples, and ultimately bring your vision from Dream to Reality.
Can I mix colors and styles to get the look that I desire?
Absolutely. We pride ourselves on our ability to customize our stone and install packages for our customers.
Traditional styles such as Drystack, Ohio Drystack, Cobblestone and Fieldstone styles are frequently blended to create unique looks specific to each project, all based on customer preference. For one example, 30% Fieldstone may be blended with 70% Ohio Drystack to create a unique custom style mix. Installation costs are subject to up-charge for unique blends, accounting for custom blending, cutting and fitting on site.
30% Briarwood Fieldstone, 70% Briarwood Ohio Drystack Blend: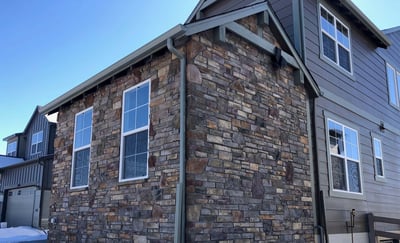 Colorways are vastly interchangeable with our styles, lending even more endlessly to customization options.
Lambris Styles (Stone Panels, Thin Brick Styles, Block Styles) have the ability to be combined, broken up by wall section. Below is an example of our Drystack Lambris Paired with our Historic Brick, and Siota Block, for example.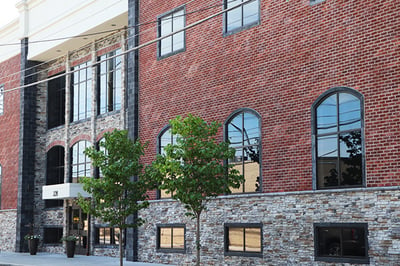 Include any of our handcrafted precast on your project for beautiful custom detailing. A library of window sills, wall capping, accessory blocks, window casings, natural flagstone capping, bands and accents are all available. Explore our precast section to learn more!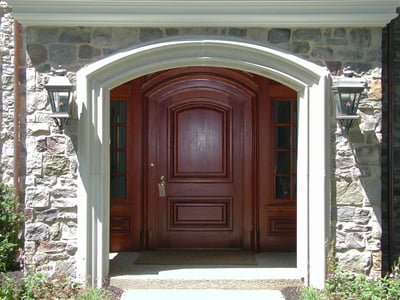 how are products packaged?
The product is packaged in a reinforced cardboard QSV box on a skid with 100-125 square feet per box depending on the product ordered. A full box of stone weighs approximately 1,000 pounds.
Smaller quantity orders are also available and typically packaged in a "Handi-Pak" cardboard carrying case with 10 square feet of stone per box.
how do i make a selection?
Quality Stone Veneer has a variety of showrooms throughout the Eastern US. To schedule an appointment at your nearest location, visit our Contact Us page. Dependent on project size and your location, we have a team of experts that work hand-in-hand with you on your desired design, often being able to meet with samples. Explore our Products, Colors and Gallery pages for inspiration!
*Note: Availability of personal sample delivery will depend on distance, project size and project location. Samples can be requested for order through our contact form on the right, or through our Contact Us page.*
does mortar color and jointing style make a difference in the project's end look?
Yes, the mortar color and jointing style does make a substantial difference. Choosing a color for the mortar is a very important decision in the stone selection process. The mortar can help highlight specific colors or it can highlight the individual shapes and sizes of the stone. Common mortar colors are standard Gray, Charcoal, White/Off White, & Buff.
Choosing a jointing style for the mortar is another important decision that has a significant influence on the end finish. Below are 4 different styles for jointing stone. Custom mortar colors and joint styles are subject to up-charge, with a standard, gray mortar joint available at base cost.
Standard Joint: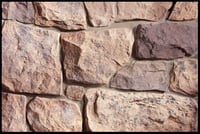 Raised Ribbon Joint: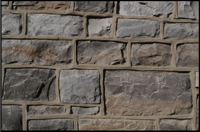 Tent Joint: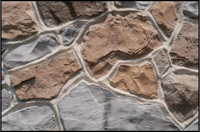 Overgrout: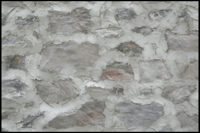 What are QSV products made of?
A blend of Portland Cement

Lightweight natural aggregates

Iron Oxide Pigments
Our products are cast directly from natural stone, by hand, intricately replicating fine detail found in nature. Our proprietary method of stone creation leaves no two individual stones looking exactly alike, so repeats on the wall are virtually impossible.
what is the average thickness of QSV's stone styles?
Stone styles are approximately 1.5" to 2.5" in thickness, depending on the style. Visit each style's product page for a more detailed look at individual dimensions.
what is the average thickness of the stone system once installed on the wall?
With the inclusion of the underlayment materials, mortar and wire lath, OR Clip System Clip & Screw, the stone system will have an approximate total of 2" to 3" of total thickness off the substrate.
This will vary slightly based on the specified thickness of the style being installed.
Mortar & Wire Lath Install: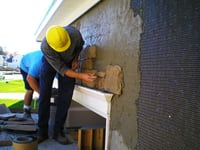 Clip System™ Install of Lambris Styles: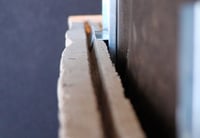 what is the average length of corner returns?
For most Traditional Styles such as, Ohio Drystack and Drystack:
2" inside and 4" outside edge.
Example: (Ohio Drystack)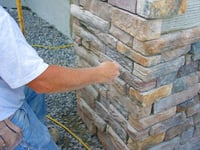 For Lambris Styles, visit each individual product page for corner dimensions per style. Corner return lengths will vary based on the style.
What is the average weight of stone veneer?
Weight is approximately 10-15 lbs per square foot. Adhered veneer weight depends on grout method and stone style. Once installed, the full system weighs between 12 and 18 lbs per square foot.
How many shapes are there to each style?
There are anywhere from 400 to 700 unique stone shapes per style, cast directly from natural stone profiles.
Can i match an existing stone structure?
Yes, we can create a custom color to match existing stone structures. Such as, developing a match to an existing natural stone no longer available through the original quarry it was harvested from.
However, creating a specific match to existing work is an intricate process subject to an additional charge when developing a custom match.
QSV's existing massive product library can more often than not be pulled directly from to create a unique match, without requiring the research and development costs to create an entirely new colorway or style.
Below is an example of matching an existing stone structure. The stone on the barn was created to match the existing house natural stone exterior!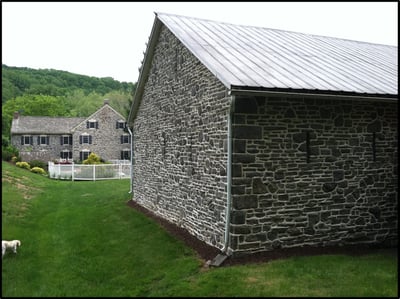 How can I hang artwork or a decorative piece on a Quality Stone Veneer wall or Fireplace?
For a picture frame, for example, Drill into the mortar, as this is easily repaired if you want to move the object later. Drilling directly into the stone is much more difficult and harder to repair.
Stone products are not designed for weighted objects to be mounted directly into them. This would include most commonly for instance, railings or TV mounts in the stone area. For areas such as these, the object's mounting platform is to be mounted pre stone installation so that the stone can then bump up to the mounting area. The object is to be tied directly into the mounting platform, not the stone.
TV Mount Example (Wood Block installed Before stone installation)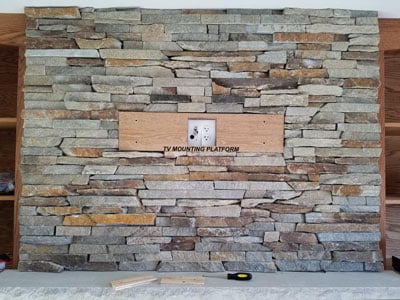 Picture Frame (Hanger installed between the individual stones, screwed directly into the mortar and wall)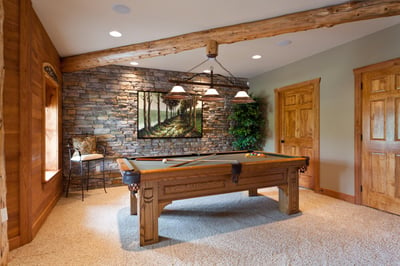 Does the color go all the way through the product?
The base color is through the entire product, with the accent colors applied to the product's surface. Base colors and accents are uniquely paired in each individual stone recipe.
Will the product fade?
Weathering will change almost any exterior surface. No undesirable changes are noticed under normal conditions.
Can Quality Stone Veneer products be used as walkways, patios, or driveways?
No, Quality Stone Veneer products are not designed to be used for foot traffic or structural applications.
Do Quality Stone Veneer products and installations meet building code requirements?
Yes, our products are designed to meet and exceed building code requirements. To learn more about those requirements, QSV offers technical info and education within our Resources page, or by contacting us.
What Warranty does Quality Stone Veneer offer?
We offer a 50 year limited warranty on stone products, 10 year limited warranty on precast products and 1 year limited warranty on installation.
Download a copy of our Limited Warranty below.