At Quality Stone Veneer, Inc.
"We Choose Safety First."

Not just a slogan...
"We Choose Safety First" is not just a slogan; we live it everyday. We pride ourselves on our longstanding reputation as a safety-minded organization. Internally, all meetings begin with a monthly safety slogan. Employees are encouraged to participate in sharing thoughts on safety for an entry into a monthly Safety Incentive Drawing. Field managers are OSHA Certified, holding tool box talks with our installation team in the field regularly.
Our Most Valuable Asset?
We consider our employees to be our most valuable asset. A renewed focus has been placed on safety by Quality Stone Veneer, Inc. We feel we need to train our employees and provide the necessary tools to keep them safe. Quality Stone Veneer, Inc. encourages all employees to assess all situations, looking for the safest, most practical method to complete the task at hand. Our Safety and Health Program has been prepared to educate our employees on how to complete their job safely. We have developed incentives to reward our employees for practicing safety while on the job or even at home.
Behavioral Based Safety Program
This program allows employees who are being safe and contributing to the Safety Slogan a chance to receive a monetary reward.
Safety Bucket Program
This is an immediate award given to the employee who is practicing all safety policies and procedures while actively performing their responsibilities on the job and in the field. This reward is a gift certificate of monetary value, drawn from the bucket.
Safety Slogan
Given out every two weeks to all employees. The Safety Slogan is used in our Safety Moment we have before every meeting. This Safety Moment relates to real life observations.
Certified Safety Committee
Safety Committee certified annually by the PA Bureau of WC. Our Safety Committee has monthly meetings that provide an overall update on safety and any accident investigations that have been performed.
Quarterly Meetings
Quarterly meetings are held with our risk control provider.
OSHA Consultant
An OSHA consultant visits to our plants and jobsites so we stay current with OSHA regulations.
Jobsite Audits
50% of our jobsites are audited every month by our safety team.
Site Safety Plans
Site Safety Plans are developed alongside the general contractor for commercial jobs where many contractors are working close together.
Mandatory Safety Training
Mandatory safety training for all Quality Stone Veneer employees.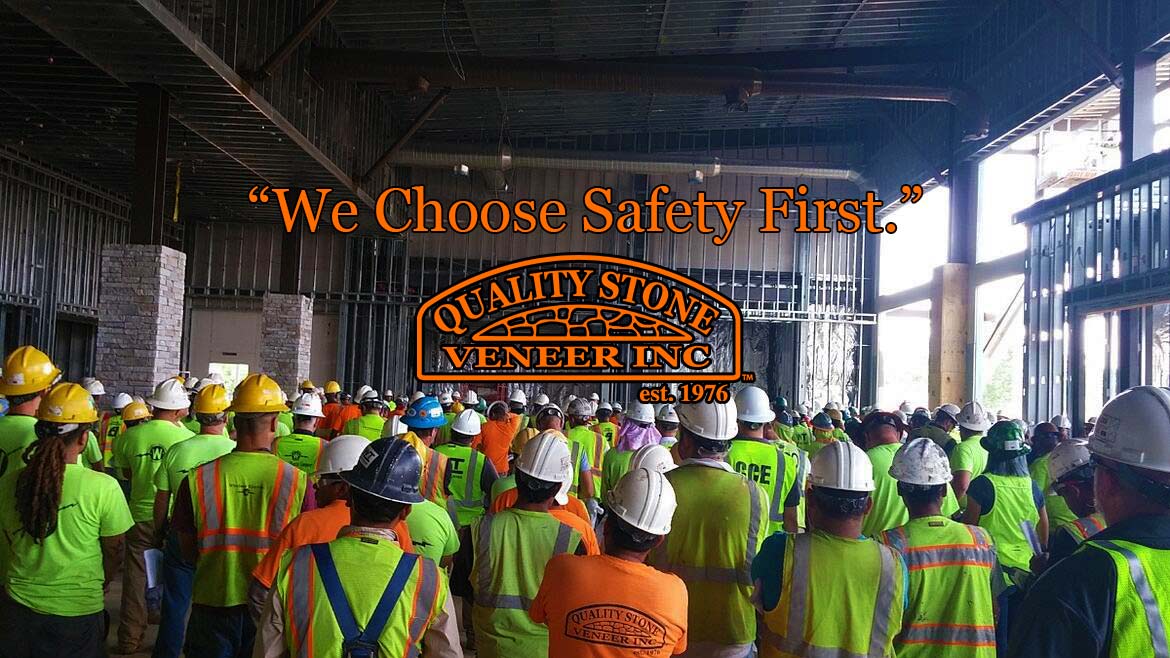 One of our key steps in assuring safety at Quality Stone Veneer, Inc. is having mandatory safety training for specific employees within the company. Below is a list of our mandatory training we provide to our employees:
Lock Out/Tag Out

Hazard Communication

Forklift

Rough Terrain Forklift

Power Tool/Hand Tool Safety

General Electrical Training

Globally Harmonized System (GHS)

Safety Data Sheet (SDS)

QSV Policies and procedures

Scaffolding Training
Fall Arrest System

Ladder Safety

OSHA 30 and 10 for General Industry

Construction-Installers required OSHA 10

Field Managers/Foreman required OSHA 30

Hearing Conservation

Aerial Lift Training

CPR/First Aid/AED

Company Installer Training for Jobsite Safety

Accident Prevention

Fire Prevention
Quality Stone Veneer has taken this attitude and these steps to commit to and promote safety, resulting in a safer work environment for our employees to work and grow.