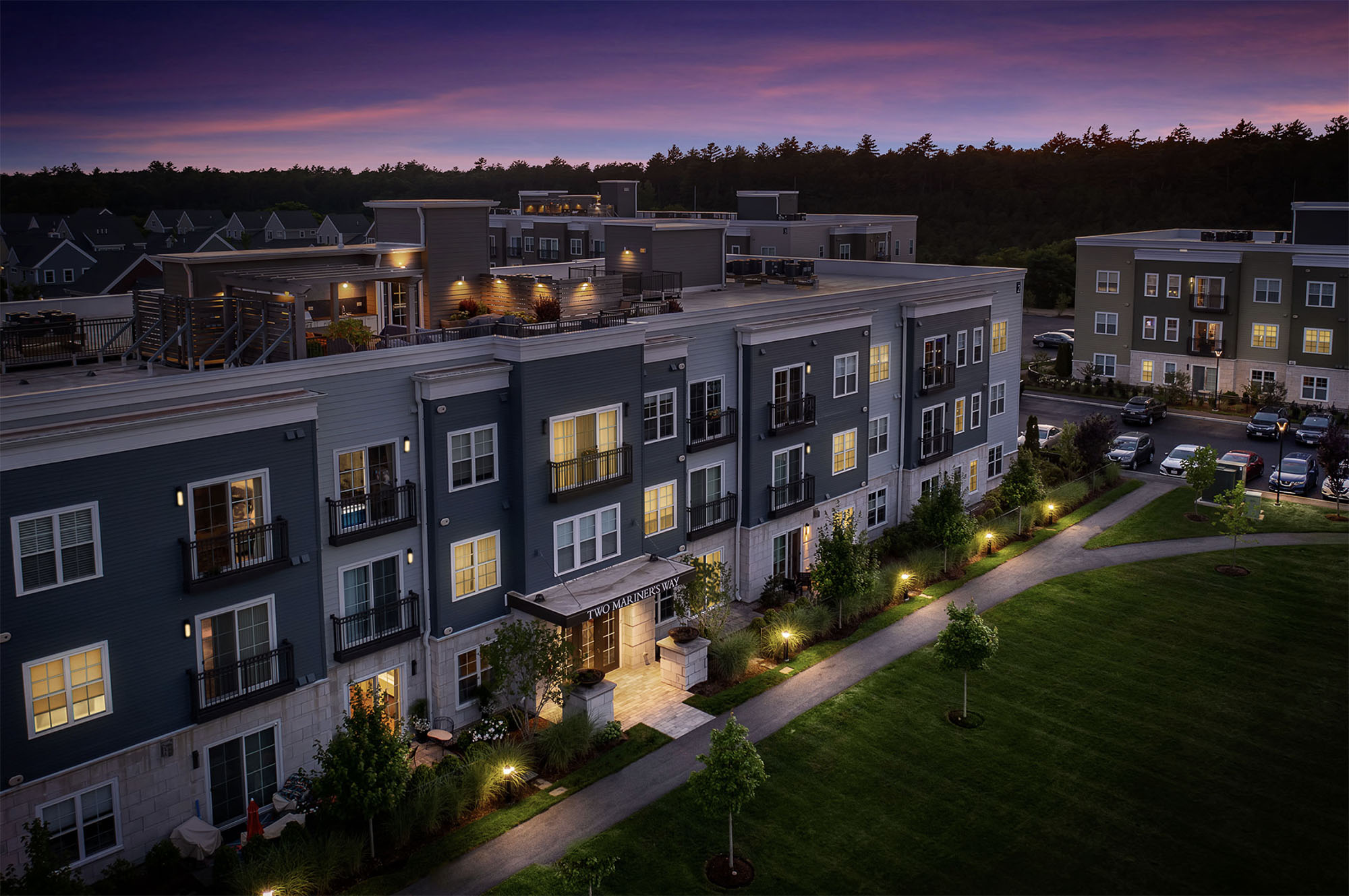 Thorndike Development

800 Colony Place, Plymouth, Massachusetts 02360
Commercial Multifamily
Senior Living
Townhomes
Designed, developed and installed an exterior veneer to match local architecture. Integrated a drainage plane for wall breathability using the Clip System™.
Start: Q1 2019 product design & development
Installation: Q3 2019 - Q1 2020
Project Overview
Sawyer's Reach at Colony Place in Plymouth, MA is a stunning, state-of-the-art, 55+ Active Adult Community of condominiums and townhomes designed and built by Thorndike Development. Quality Stone Veneer is honored to be a longtime partner of Thorndike; New England's leading locally owned fully integrated design, development, and construction firm, who has recently won an award for Best Active Adult Community in the Nation.
In the early design of Sawyer's Reach, Thorndike came to us with exterior ideas inspired by buildings built years earlier nearby the project site and bordering towns. It was important for the project to capture the historical beauty of Plymouth, with a large focus in matching the refined architectural style of the surrounding cities.
Our team traveled with their design department specifically to a luxury condo building in Wellesley, Massachusetts that was built from a natural, 4" depth, quarried limestone block with a unique 3" high recessed band between block rows.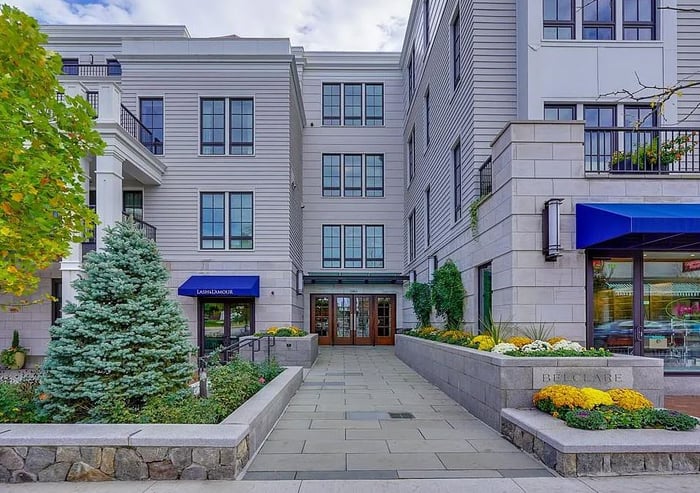 Original building visited / Photo: Zillow.com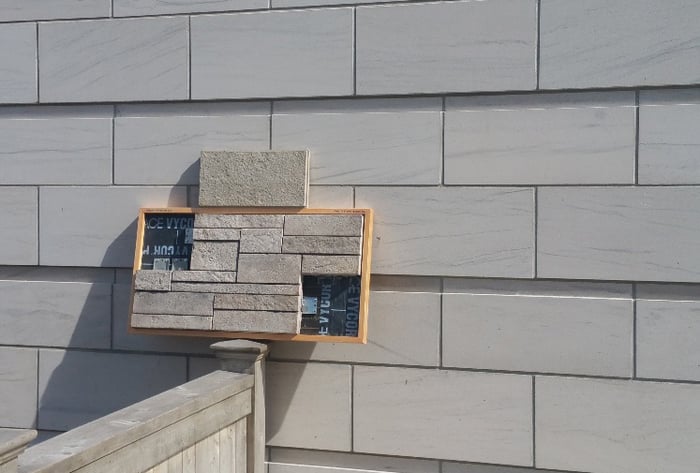 Determining the textures and color tones on the original building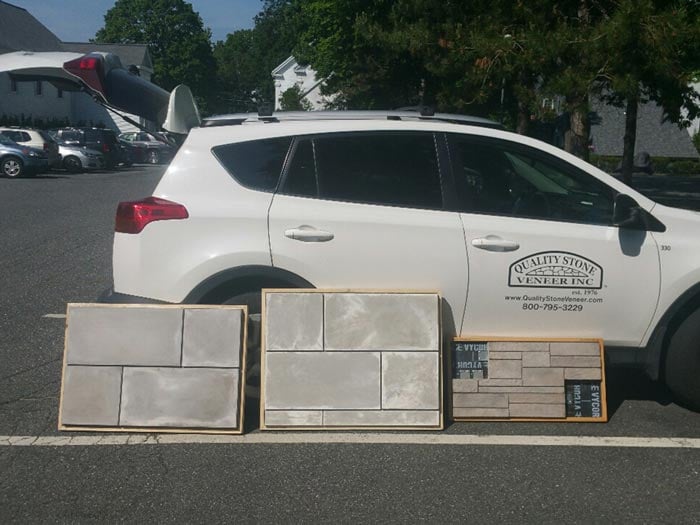 Presenting a preliminary round of custom product samples
Although beautiful, countless challenges arise with this type of building material in the modern day, especially when paired with a large and intricate apartment build. For one, sourcing a natural quarried block in the same color and texture as product cut years earlier is both difficult to locate, as well as expensive. To accept a full depth building block, the build must be pre-designed to support the immense weight of the block, adding costly additional structural design considerations.
In setting out to provide Thorndike with solutions to these challenges, we methodically developed a new 12"x24" thin block veneer and 3" high offset band with our signature semi-smooth Siota face texture finish. Early in this design phase, we presented several rounds of samples to Thorndike's design team, naming the final approved product design Piedra Cortada, translated to "cut stone." The final colorway developed was named Calacatta, to match the subtle light limestone tones of its natural counterpart.
Adding further to the historical detail, our Liso Bull Nose Water Table Sills and Wall Caps were added as compliment to this architectural style.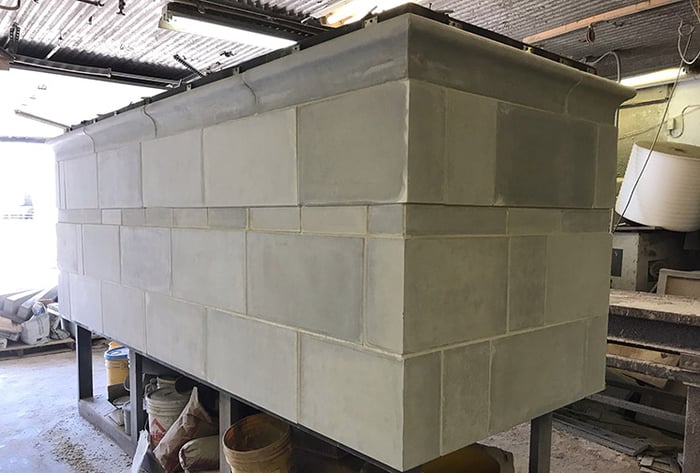 Early product development at QSV R&D
Approved Product Design Installed on the on-site mock up in Plymouth, MA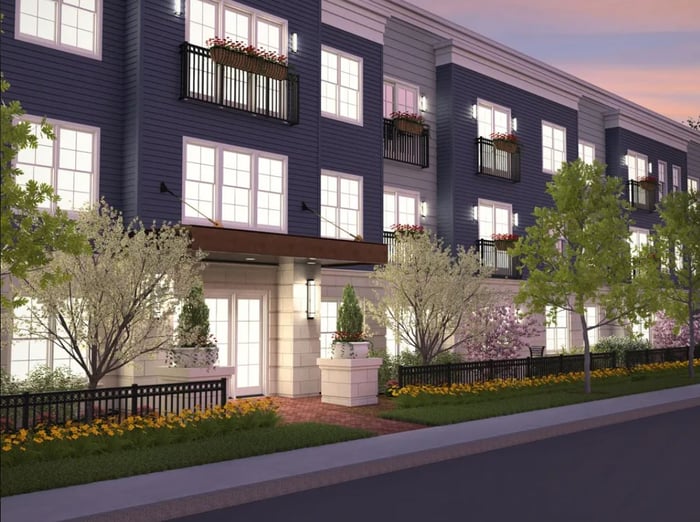 Finalized Project Renderings By Thorndike Development
Challenges
Provide the look of a quarried, full depth limestone block without the weight, sourcing difficulty, and cost of a 4" depth natural product.

Custom design and develop a brand new exterior stone veneer specific to the client's needs.

Match the architectural style of local historic buildings with authenticity.
Include cohesive precast accents to compliment the historic, timeless style of the design intent.

Add breathability in the wall system to protect against New England's harsh moist climate and freeze-thaw cycles.

Install stone veneer through cold New England winter months to help meet project schedule and close date.
Photo: Thorndike Development
Moisture Management
Given New England's moist climate with high amounts of precipitation and freeze-thaw cycles, it was essential we also provide an exterior solution that protected the structure from rain and snow.
Adopted by the ICC in the 2018 International Building Code, a "Ventilated Air Space" behind stone veneer systems is stated as requirement in specified moist Climate Zones of the US, covering the state of Massachusetts.
For this, integrated into the final Piedra Cortada was our unique Clip System™ groove behind the product, providing the ability to mechanically fasten the stone to the wall with a galvanized clip and screw. Our patented Clip System™ provides a ¼" drainage plane between the wall and stone; an airspace that is free and clear allowing all moisture to drain freely out the bottom of the system.
In addition to its open and free ventilated air space, the Clip System™ :
Is less weight per square foot than a traditional mortar and wire application.
Saves on material, reducing the amount of mortar and wire lath required for a project down to nearly zero.
Can continue to be installed in the winter months, whereas a mortared application requires steady temperatures above 40-50 degrees F to allow for proper curing.
Can save a considerable amount of time on product installation and finishing.
Solutions Provided
QSV custom designs a 12"x24" block façade with 3" offset band to achieve the look of a quarried full depth block. This brand new style is named Piedra Cortada adding further to QSV's Lambris line of styles.
Piedra Cortada is mechanically fastened via the Clip System™ on the project to include a ¼" depth integrated drainage plane for moisture management. This ventilated air space behind the stone product allows for any moisture to drain freely from from behind the wall.
The Clip System not only provides a drainage plane that is free and clear from mortar and debris, but also allows for the stone veneer installation to continue through the cold New England winter months where a mortared system would require temperatures above 40 degrees F, or time consuming, cost-added heating and tenting.
In addition, significant savings are made in material costs and installation time. Mortar and wire lath needs are cut down by 95%.
Value Management Statistics
Numbers and costs are approximate based on job total square footage and 2020 material costs.
275 Bags
$1,500+ Saved in Type N Mortar
30 Tons
$2,500+ Saved in Sand
725 Pcs
$4,500+ Saved in Wire Lath
35-40%
Est. Cost Savings in Final Installed product vs Natural Stone
Products Used in this Case Study
Request a Free AIA Accredited Lunch and Learn
Quality Stone Veneer is a certified American Institute of Architects Continuing Education Provider.