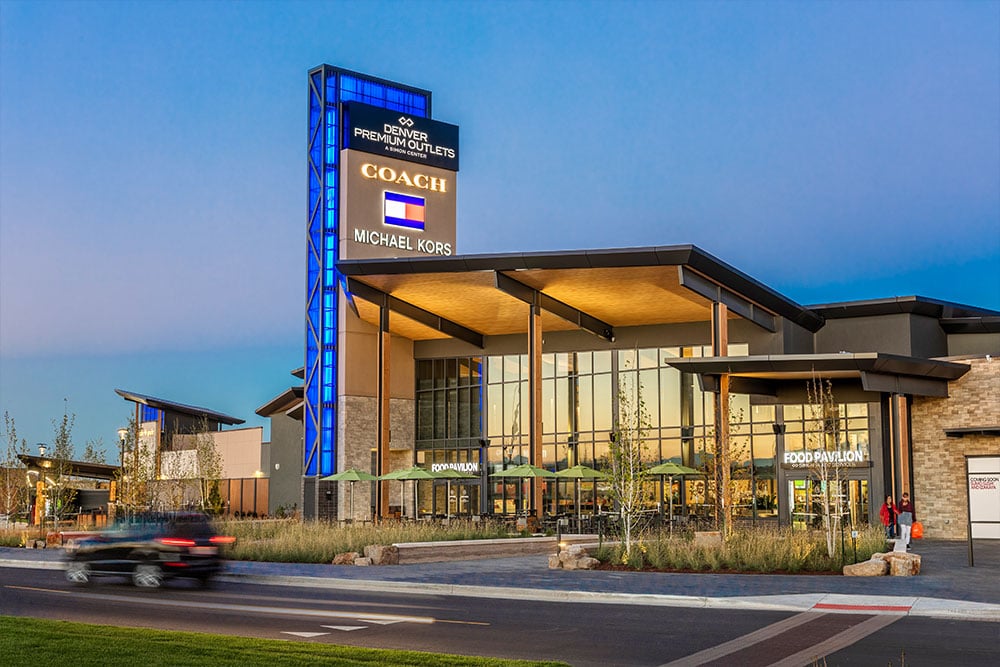 Simon Property Group®

United States, Canada
Partnership Overview
Quality Stone Veneer is a proud national partner of Simon Property Group. Simon is the developer of premier shopping, dining, entertainment, and mixed-use destinations globally, and the largest owner of shopping malls in the US.
Specifically, QSV specializes in stone veneer designs for Simon's Premium Outlets® brand of outdoor shopping malls, and has contributed to the development of exterior schemes for numerous locations throughout the US and Canada.

1600 Premium Outlets Blvd, Norfolk, VA 23502
QSV Package Provided: Turnkey, Material & Installation
In 2016 to 2017, QSV worked on Simon's then newest Premium Outlets venture in Virginia: Norfolk Premium Outlets. Located in the heart of the Coastal region of Virginia, the project sits just between Norfolk and Virginia Beach.
Norfolk features an array of different Quality Stone Veneer's Traditional stone selections, most prominently being Pinehills Cobblestone installed on their retail store exteriors. A color originally first developed special for Hanover Co's "The Pinehills Luxury Apartments" in Plymouth, Massachusetts, Pinehills has been a client favorite since it was created. Pinehills was derived from a 50/50 blend of PA Lime and Bull Run Colors, in a diverse color scheme of coastal inspired grays, blues, and tans, making it a perfect selection for Virginia's coastal region.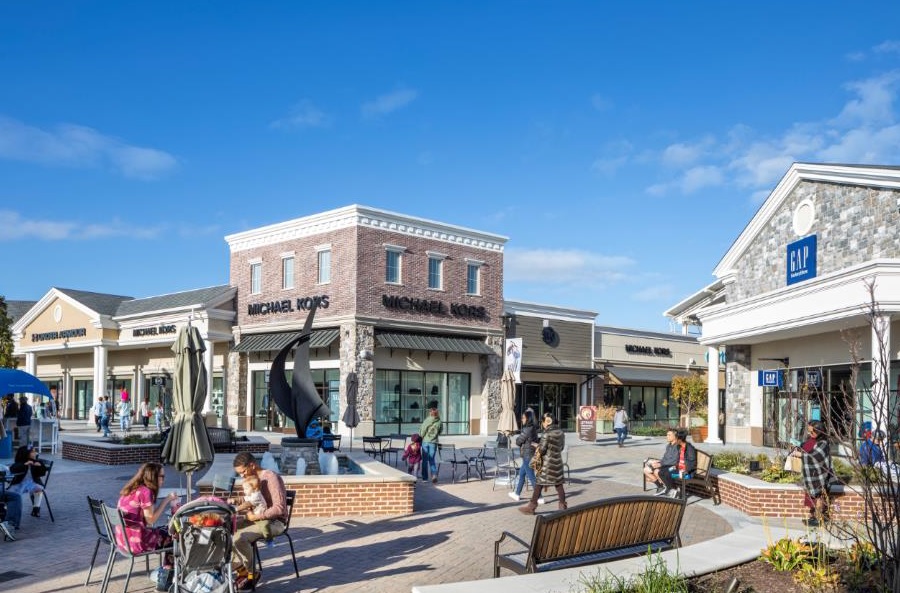 The project also includes several other Quality Stone Veneer staples complimentary to the Pinehills Cobblestone. PA Lime Brookstone can be found on a massive outdoor fireplace and seating area where guests can sit and enjoy food and drink fireside between shopping.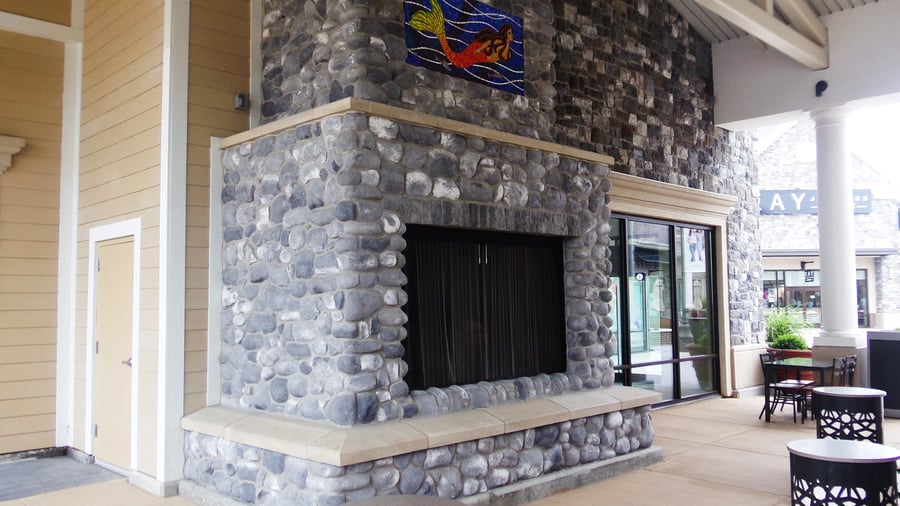 PA Lime Brookstone
Powder Ridge Fieldstone is featured as an accent on several store fronts as well; A longstanding company favorite inspired by the natural tones found in within forrest areas of the eastern US.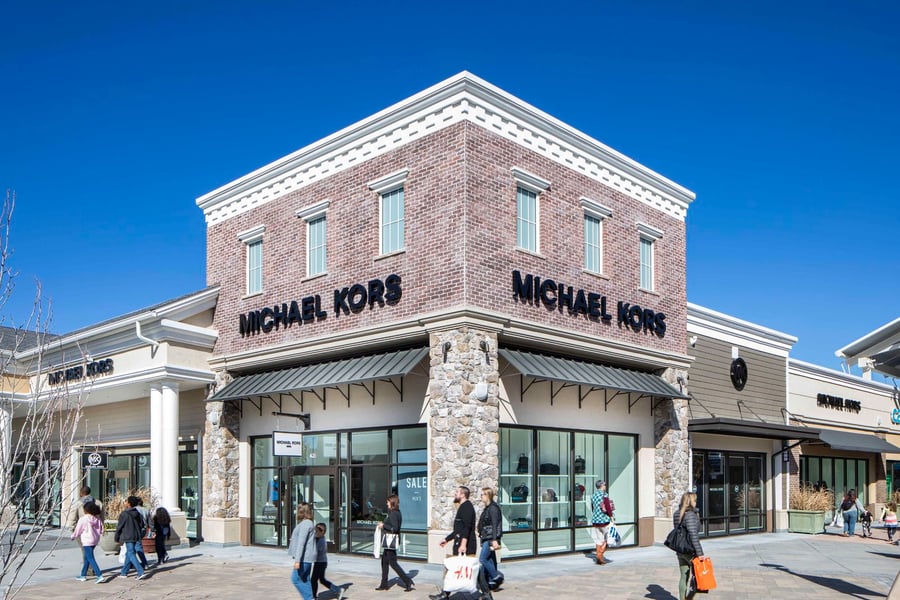 Powder Ridge Fieldstone

22705 Clarksburg Rd, Clarksburg, MD 20871
QSV Package Provided: Turnkey, Material & Installation
In 2016, Quality Stone Veneer supplied and installed stone on Clarksburg Premium Outlets in Maryland, just 30 miles north of Washington, D.C. and 50 miles west of Baltimore.
Clarksburg features Quality Stone Veneer's Travertine style on its store front exteriors. This timeless QSV style was derived directly from natural Travertine; Large slabs of natural limestone formed by depositions, most usually within spring waters or hot springs. This type of rare stone naturally occurs in areas such as Italy, Mexico, and Peru, making it incredibly expensive and difficult to source.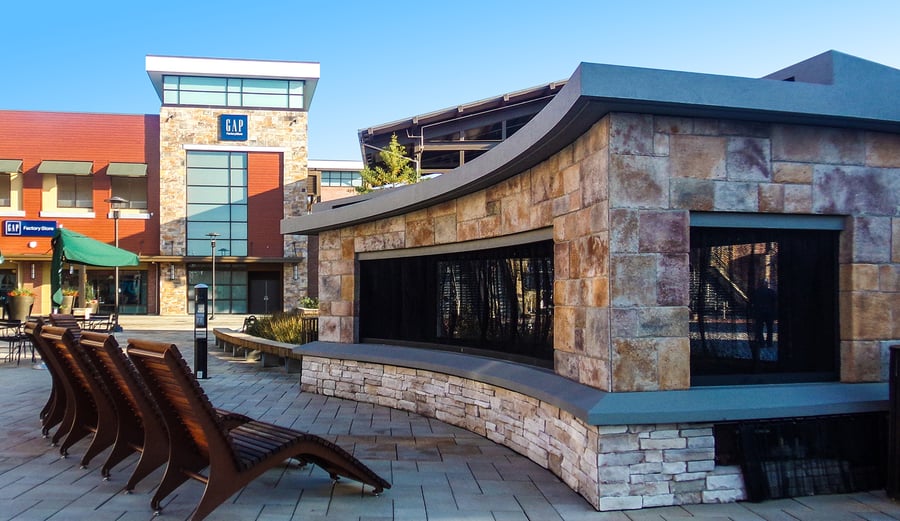 Garis Canyon Gray Travertine (Custom)
Quality Stone Veneer intricately captures the authenticity and tradition of its counterpart, with a hand chiseled edge and true corner, and smooth weathered marine face textures, without the weight and cost of it's natural stone match. Garis Canyon Gray Travertine, and Cedar Hill Travertine were custom produced for Simon® on this build.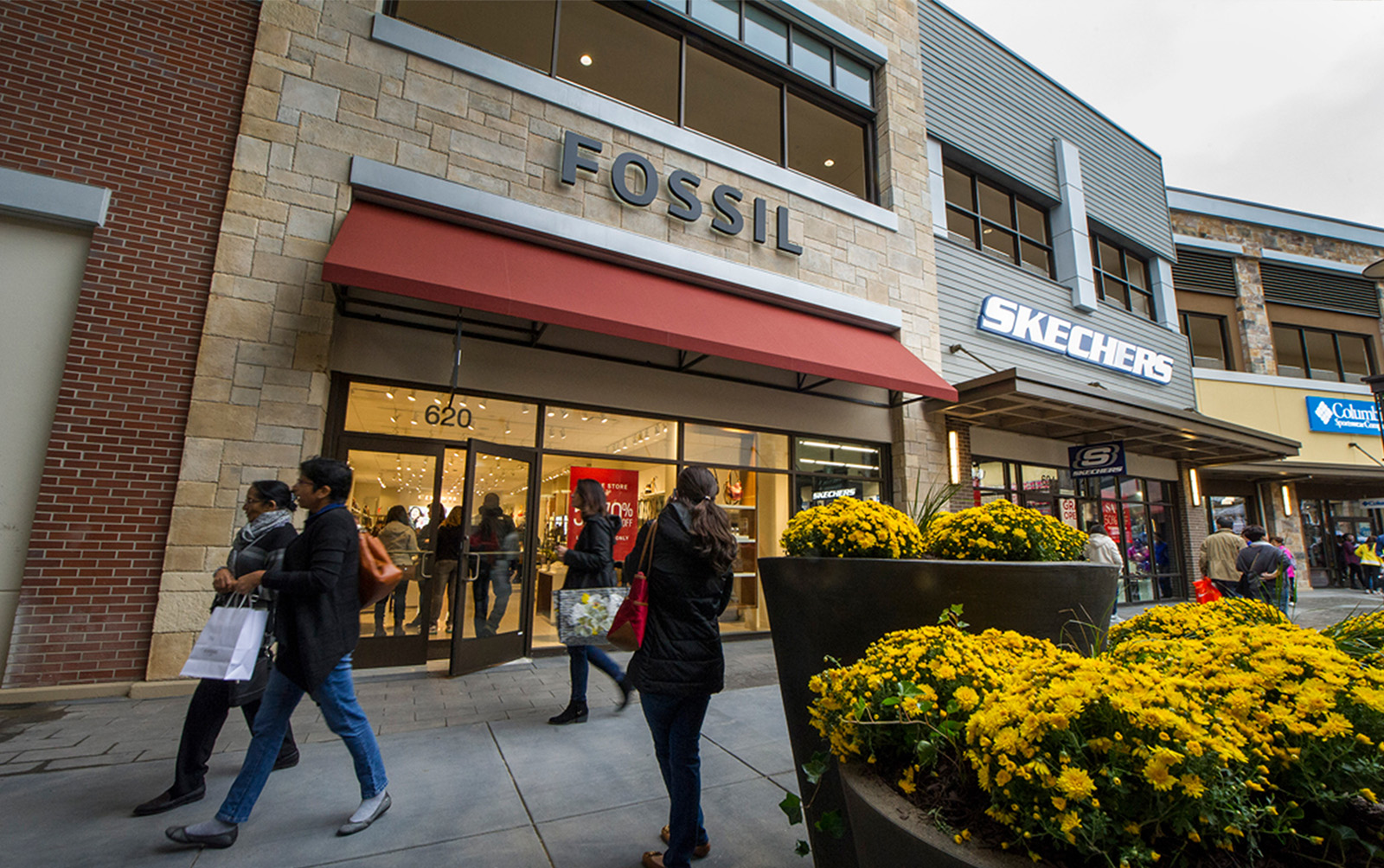 Cedar Hill Travertine (Custom)
Aside from Travertine, Clarksburg also includes a seemingly endless display of Pinehills Cobblestone on the exterior signage and landscape walls. The stone is dry-laid, meaning the stone is intricately chiseled by the installer to fit seamlessly together without space in-between for a mortar joint. A laying style most common to a Drystack or Ohio Drystack, dry-laid Cobblestone showcases another design capability for customization with Quality Stone Veneer.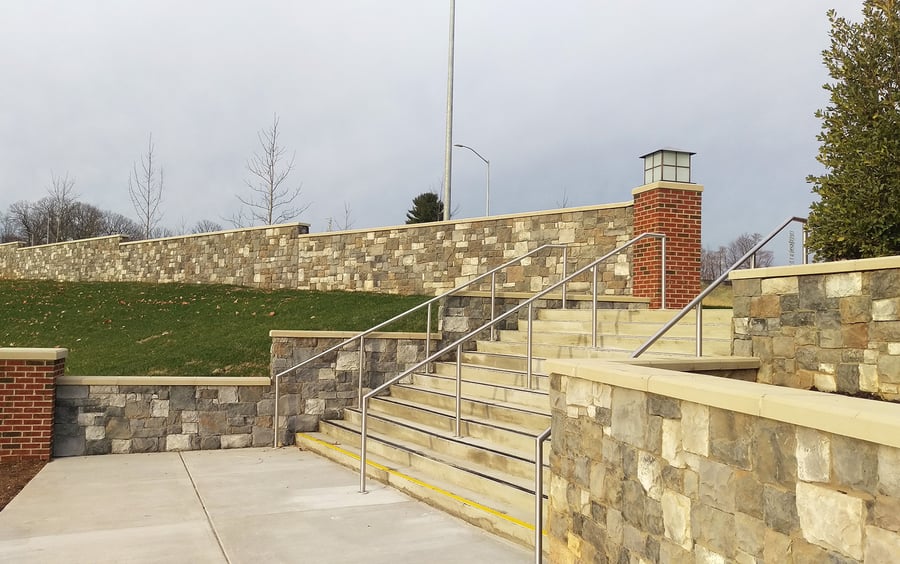 Pinehills Drylaid Cobblestone
Photo: Simon Property Group®

13801 Grant St, Thornton, CO 80023
QSV Package Provided: Material Only
Throughout 2017, QSV worked directly with Simon during the design phase of their new Denver Premium Outlets project to custom develop a brand-new stone profile for the build. The result was a contemporary drystack style named Urbana Fusion, crafted in a dark gray color Oxford, and a light tan Pueblo. Urbana Fusion combines the smooth and porous textures of travertine, inlayed against a rough sandstone texture.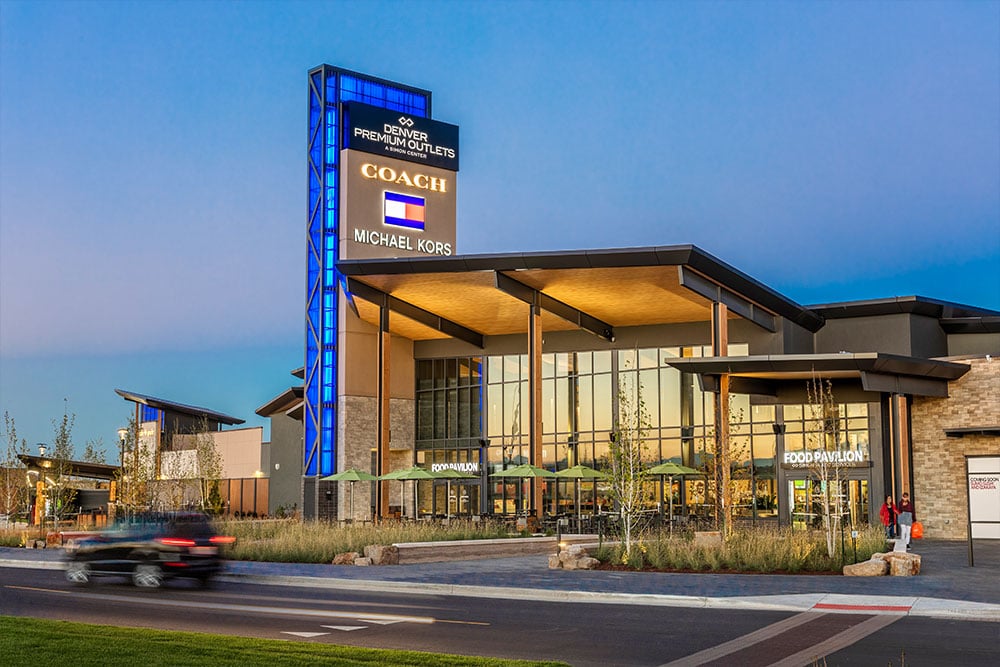 Photo: Simon Property Group®
The style is part of the Lambris line of styles, made up of uniquely sized stone panels that interlock seamlessly, further adding to ease and speed of installation amongst a list of additional advantages.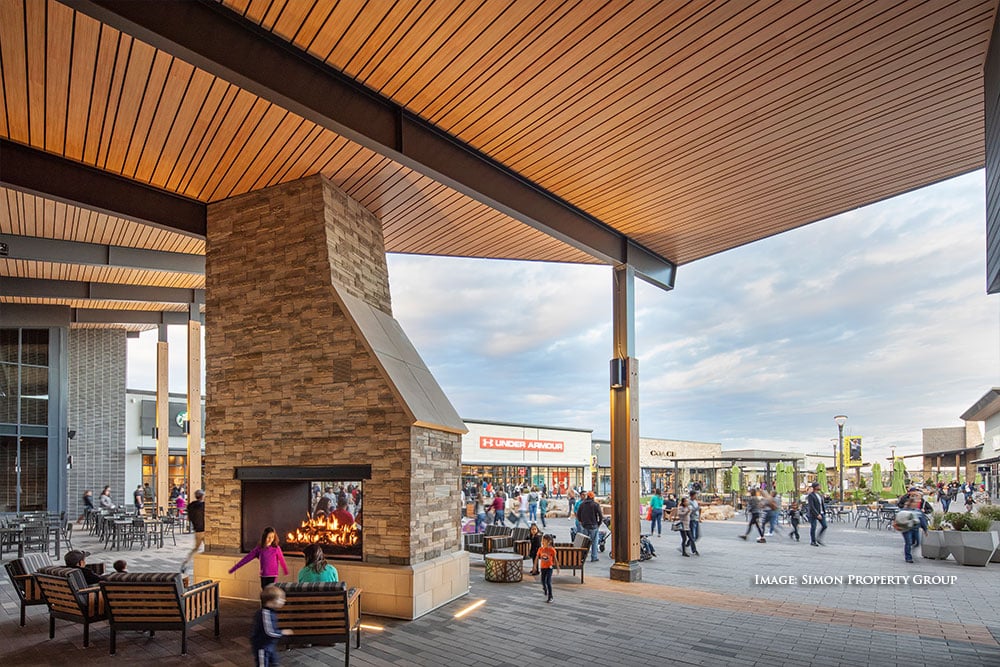 Pueblo Urbana Fusion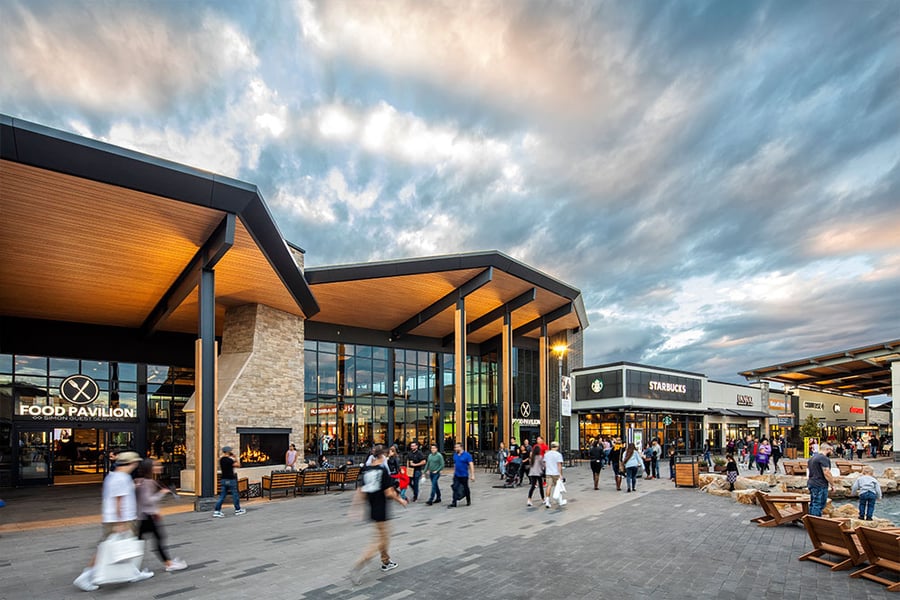 Construction of the project was managed by The Whiting-Turner Contracting Company, and by September 2018 the doors opened on this exciting new shopping destination.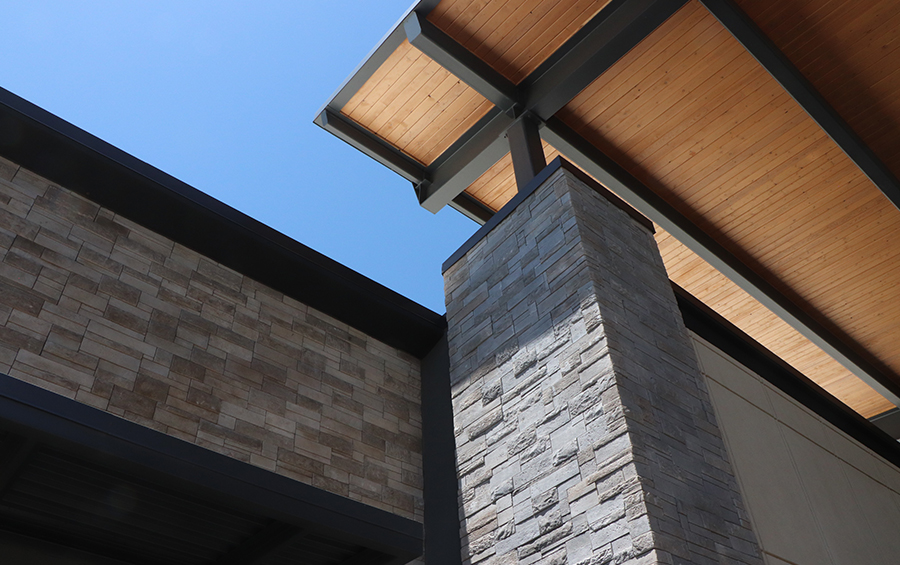 Today, the Denver Premium Outlets features some of the most innovative, forward-thinking design in outdoor shopping-based architecture. The project sits conveniently just 15 miles north of downtown Denver.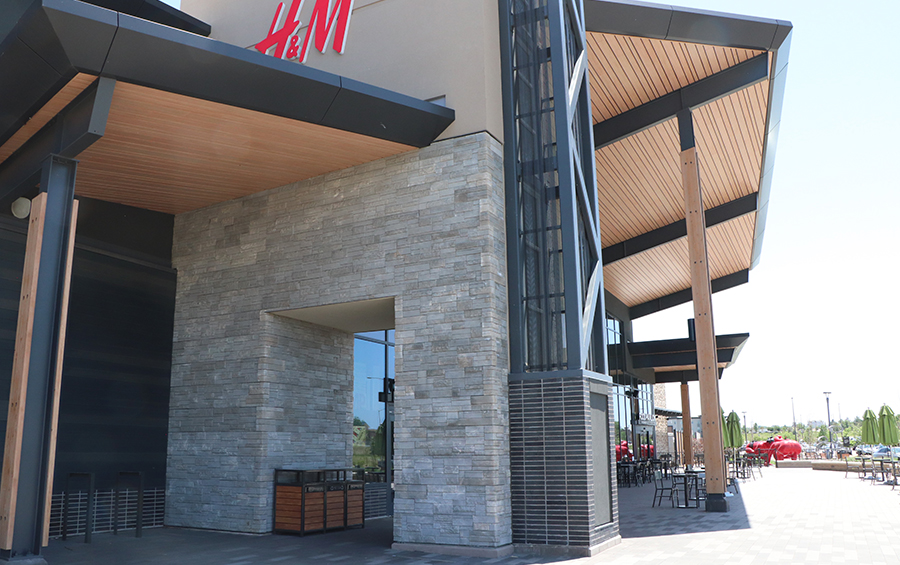 Oxford Urbana Fusion

Canada
QSV Package Provided: Material Only
In addition to Simon's work in the US, Quality Stone Veneer has also partnered internationally with them on their Premium Outlets line, supplying product only to their locations in Toronto and Montreal, Canada.
2013 - Toronto Premium Outlets
In 2013 for Simon's Toronto build, QSV custom engineered their Drystack Lambris product with an arch in the stone panels to fit on a curved radius wall lining the outside of the property. Measurements of the wall's radius were taken and then rebuilt out of wood framing in the QSV R&D shop back in Pennsylvania. Then, their Drystack Lambris molds were set overtop the curved frames, so that the final stone product was cast with a curve to the stone, perfectly meeting up with the radius of the wall once installed on site.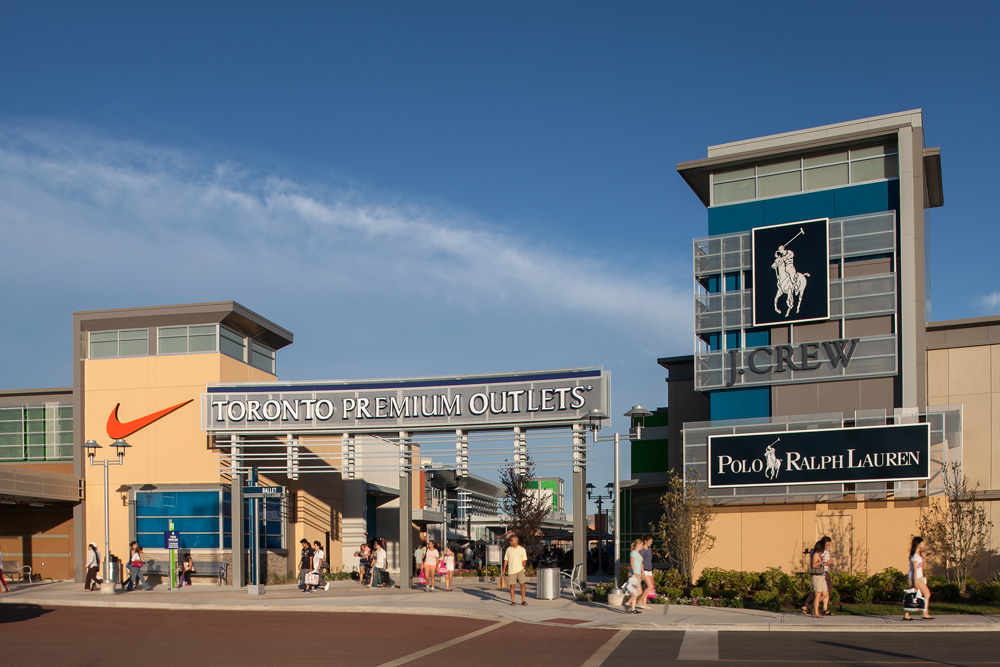 2014 - Montreal Premium Outlets
By 2014, QSV also had the opportunity to supply product only on the Montreal project.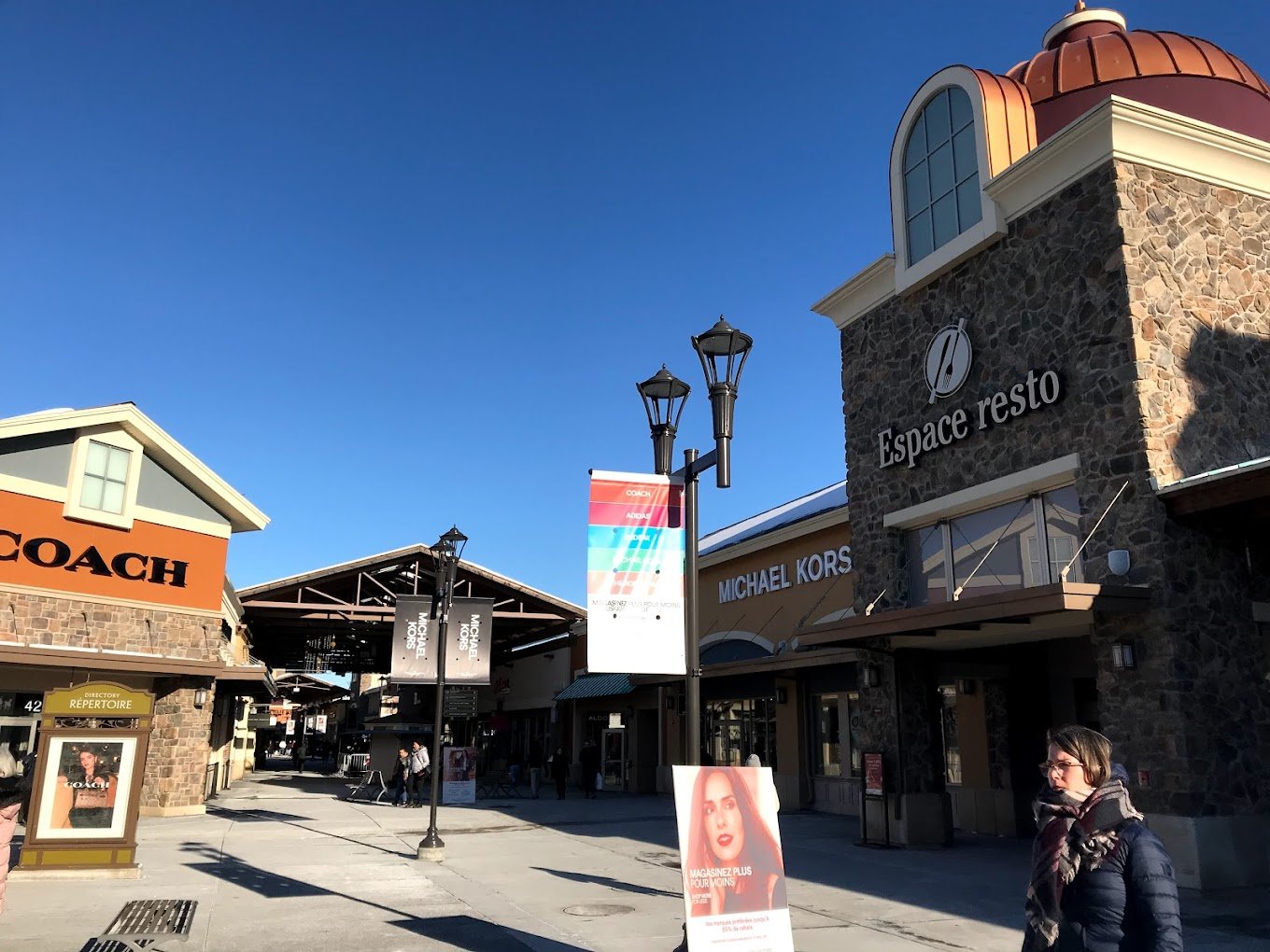 Provence Cobblestone and Provence Fieldstone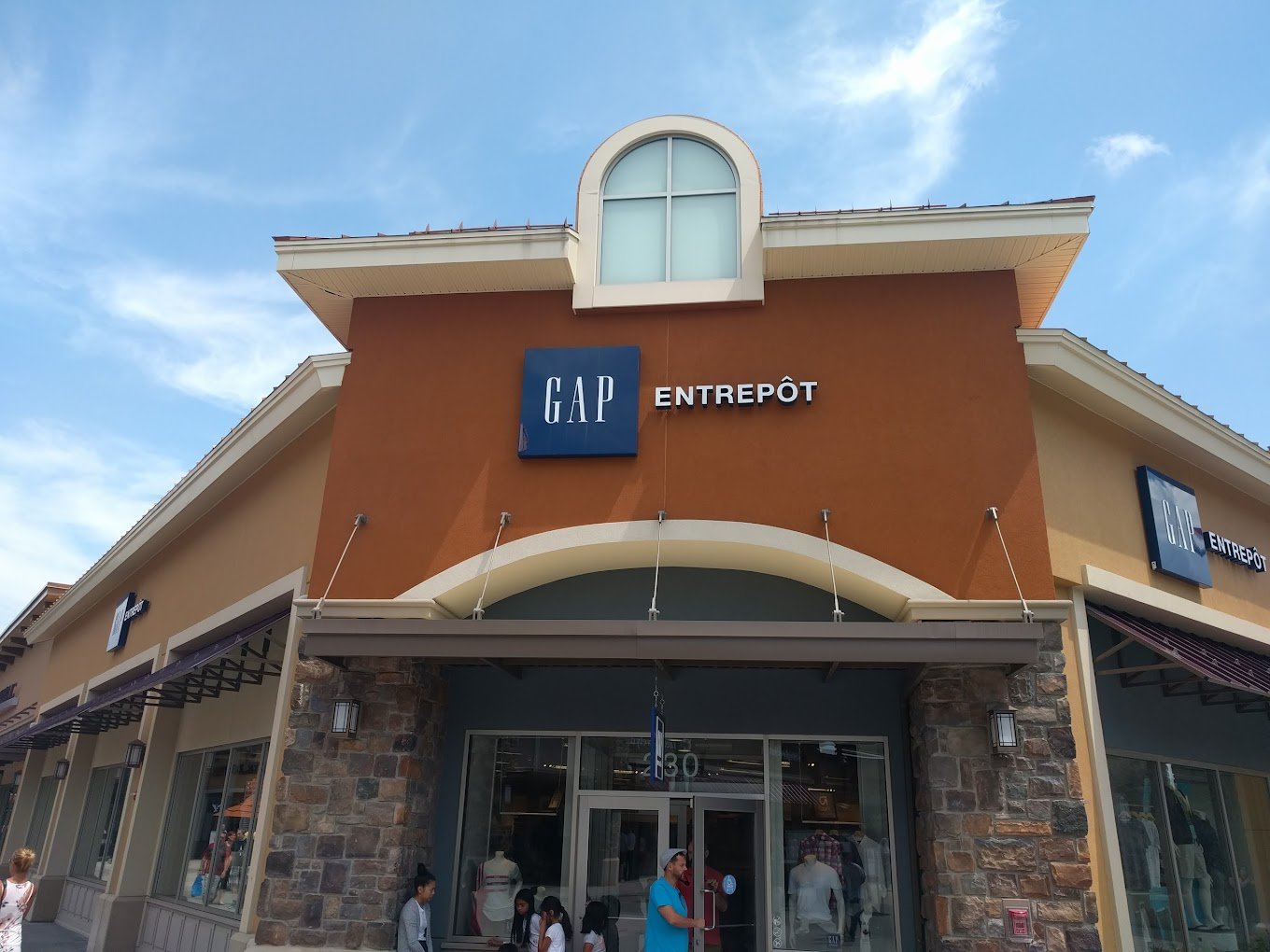 Provence Cobblestone
Request a Free AIA Accredited Lunch and Learn
Quality Stone Veneer is a certified American Institute of Architects Continuing Education Provider.