Increasing Your Home or Property Value with Stone Veneer in the United States
You can consider countless upgrades and renovations when it comes to increasing your home's value. However, stone veneer stands out as one of the very top home elements for its visual appeal, durability, and return on investment. Adding stone veneer to your home's exterior or interior can greatly elevate its aesthetics and boost its market value. This article will explore the benefits of stone veneer, notably Quality Stone Veneer's industry leading ledge stone styles, Lambris™ stone panels, and library of modern and rustic profiles, and discuss how they can enhance your home's value.
The Value-Boosting Power of Stone Veneer
It's no secret stone veneer is a popular choice for homeowners looking to enhance the beauty and value of their properties. Its natural aesthetic, versatility, and durability make it an attractive option for exterior and interior applications. Whether you choose a popular modern ledge stone look, a mechanically fastened stone panel system with added installation ease, or traditional mortar and wire lath installed system, manufactured stone on your home can provide a substantial return on investment.
A National Study on Manufactured Stone Veneer Return on Investment: Cost vs. Value
In fact, as reported by the National Concrete Masonry Association (NCMA), in a new national annual study conducted by Remodeling Magazine tracking the return on investment for a long list of home exterior projects, stone veneer again landed at the top of the list proving a 91% cost recovered, falling just under garage door replacement at a 93% ROI.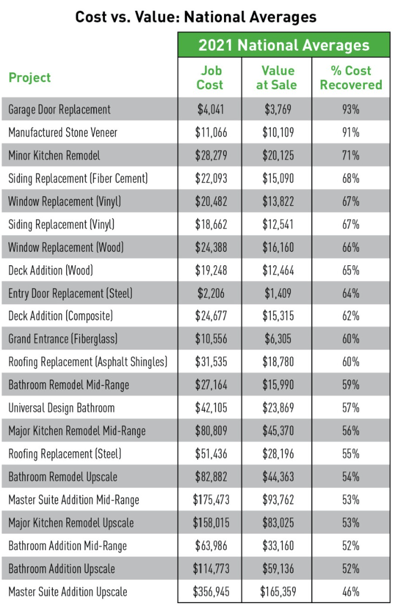 Photo: NCMA.org
An emphasis on again landing at the top of this nationally based list. Manufactured stone veneer, sometimes referred to by the NCMA as MSV, has been included in Remodeling Magazine's annual study since 2015, with an overall average of a 93.4 percent ROI nationally over the past seven years. Manufactured Stone Veneer and Garage doors were the only two exterior upgrades from the entire list to fall within the 90th percentile.
Manufactured Stone Veneer placed at the top of the list in terms of projects for highest ROI in their regional studies as well. In a study conducted across 9 regions of the US, MSV came in at number 1, or number 2 across all regions studied.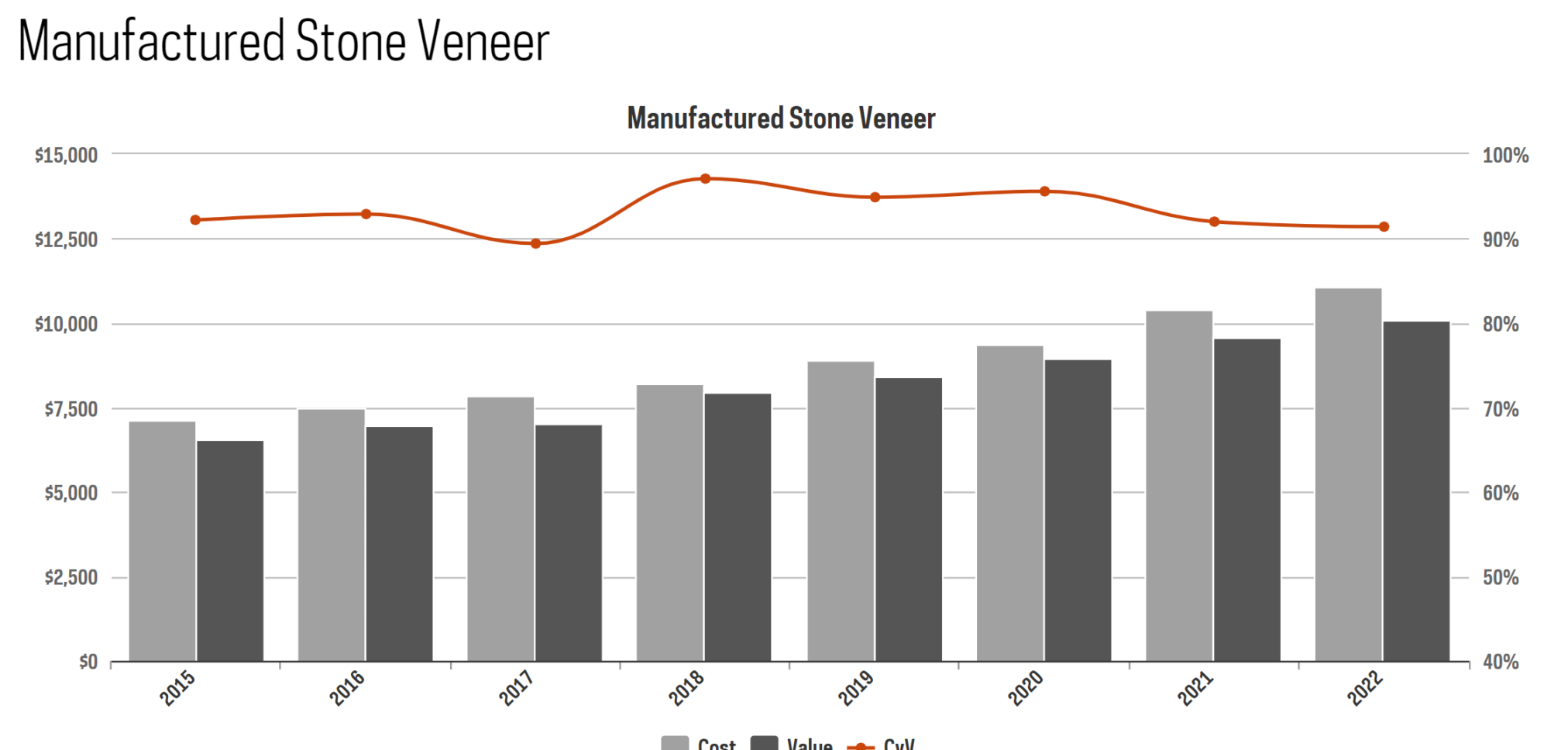 Photo: NCMA.org
Established in 1918, the National Concrete Masonry Association, or NCMA, is the national trade association representing the concrete masonry industry. They set the national industry standards and regulations for the trade to ensure the highest level of safety and quality for manufactured stone veneer installations.
Quality Stone Veneer is a proud expert and contributor to the industry standards set forth by the NCMA. All Quality Stone Veneer installations are designed and executed following these national installation guidelines and best practices.
Increasing Exterior Appeal with Stone Veneer
Curb Appeal:
The exterior of your home plays a crucial role in creating a positive first impression with homebuyers. Curb appeal and first impressions are two factors in real estate that greatly influence how much money prospective buyers are willing to pay for a home. A stacked stone or rustic stone veneer exterior, whether an entire exterior wall coverage creating the look as if the home was built itself from stone, or even down to a simple knee wall accent, stone veneer can instantly transform the look of your house. Textured stone surfaces mixed with natural earthy tones create visually striking facades that turn heads at first impression, and are sure to stand out in any neighborhood.
Quality Stone Veneer offers an extensive, customizable library of stone veneer styles and interchangeable colors. Products are all crafted by hand as it's been done since the company's inception in the 1970's.
Just a few popular style selections today for their customer's projects include Ohio Drystack, Drystack, Cobblestone, and Ledgestone styles.
Enhanced Resale Value:
Real estate experts agree that homes with enhanced curb appeal command higher prices in the market. Adding a modern stacked ledge stone veneer, or perhaps a more rustic natural Fieldstone to your home's exterior can create a strong visual impact that attracts potential buyers and increases your property's overall value. No matter the design preference, a quality, properly installed stone system is guaranteed to boost home value, and therefore later provide a high return on investment.
Perceived Value:
Homebuyers often place a premium on homes with high-end finishes and unique design elements. Incorporating a traditional stone veneer or stone panels into your exterior and even interior design can give your home a luxurious and upscale feel, enhancing its perceived value in the eyes of potential buyers.
Interior Transformation with Manufactured Stone Veneer
Traditional stone styles and stone panels offer a versatile and stylish option for interior applications as well. Whether used to create an accent wall in a living room, a stunning fireplace surround, or a statement piece in a foyer, stone veneer can elevate the overall aesthetic of your home. The natural textures and colors of the stone bring warmth and sophistication to any space, creating an inviting interior atmosphere.
The Benefits of Choosing a Trusted Stone Supplier
Selecting a reputable stone supplier is crucial when considering a stone veneer project. Quality Stone Veneer is a leading provider known for their commitment to sustainability and quality craftsmanship, both on product manufacturing and installation. By partnering with a trusted supplier, you can ensure that the stone veneer products used in your home are of the highest quality, are durable, and are visually appealing.
In addition, Quality Stone Veneer products are backed by a 50 Year Product Warranty, and Installations are backed by a 1 Year Installation Warranty. QSV also offers product specifications, product testing information, and detailed visual installation guides and video.
Sustainability and Long-Term Value
Eco-Friendly Materials: Quality Stone Veneer prioritizes sustainability by sourcing sustainable materials for the manufacturing of their product and it's packaging. Their commitment to ethical practices ensures that you can enjoy the beauty of stone veneer while minimizing your environmental impact.
Durability and Maintenance: Stone veneer is renowned for its durability and low maintenance requirements. When appropriately installed by professionals, it can protect your home from the elements and maintain its beauty for years and years. This long-term durability adds further value to your home by reducing future exterior repair and maintenance costs.
In Conclusion,
Investing in stone veneer for your home is a wise financial decision and a creative way to enhance its overall appeal. With the proper stone veneer selection, you can transform an ordinary property into an extraordinary masterpiece that captures the attention of potential buyers and increases its market value. The visual impact of stone veneer cannot be overstated. The textured surfaces, natural colors, and unique stone veneer patterns create a sense of depth and visual interest that is unmatched by other materials.
Stone veneer adds a sense of luxury and sophistication to your home, giving it an upscale appearance that appeals to discerning buyers. The timeless beauty of stone has long been associated with quality and craftsmanship, and incorporating stone veneer into your home's design sends a message of elegance and refinement.
In addition to its aesthetic appeal, the stone veneer offers practical benefits. It is highly durable and resistant to weathering, maintaining its beauty and integrity for many years. Stone veneer is also low maintenance, requiring minimal upkeep compared to other exterior materials such as wood or vinyl siding. This can be a significant selling point for potential buyers who value convenience and longevity.
Working with a trusted stone supplier is essential when considering stone veneer for your home. Quality Stone Veneer is a reputable company committed to sustainability and high-quality craftsmanship. They offer a wide range of stone veneer options, allowing you to choose the perfect color, texture, and style to suit your home's architectural design and personal taste. Potential buyers will be drawn to stone veneers' timeless beauty and durability, making your property stand out in the competitive real estate market.
By partnering with a trusted stone supplier like Quality Stone Veneer, you can guarantee high-quality materials, and to-code installation that will stand the test of time.
Sources: https://ncma.org/updates/news/msv-2022-cost-value-report/
"One Manufacturer. One Installer. One Source of Accountability."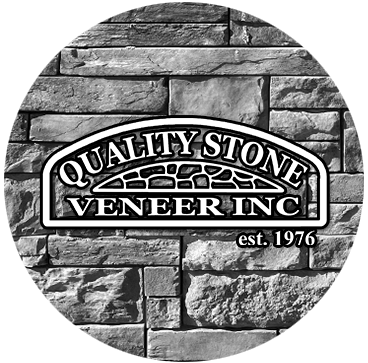 Quality Stone Veneer, Inc.
Serving builders, suppliers, homeowners and architects with a unique blend of exceptional manufactured stone and masterful installation since 1976.