New ICC International Drainage Plane Requirements Behind Stone Veneer Systems: Ensuring Building Longevity
Understanding the Importance of the International Code Council's (ICC) Requirements for integration of a 3/16" minimum depth Ventilated Air Space behind Stone Veneer Systems.

What are the current International Drainage Plane code requirements in 2023? What is the significance of this "Ventilated Air Space" in Stone Veneer Installations?
Stone veneer has a longstanding reputation as being a popular choice for enhancing the aesthetics and durability of both interior and exterior spaces. Whether it's the timeless elegance of stone fireplace surrounds or the rustic charm of stacked stone accent walls, stone veneer offers a versatile and visually appealing solution.
A traditional stone veneer installation over a wood framed structure (say for instance, a house exterior) involves a process of adhering individual stone pieces to a wall using a pre-blended masonry mortar. After the building is wrapped in a water resistive barrier, known most commonly as house wrap, a galvanized metal wire lath is fastened onto the wall, to then receive a mortar scratch coat spread evenly overtop. The back of the stone is buttered in setting mortar and the stone is pressed into the wall, just as with installing a natural thin stone.
Although in this traditional installation the building is properly flashed protecting fully from water intrusion, new modern products and code procedures have since been developed to create even more breathability in the wall system, allowing for any trapped moisture to drain more freely from between the stone veneer and the building's water resistive barrier.
In certain areas of the US, these new drainage procedures have become requirement by the International Code Council, ICC. Adhering to the new international drainage plane requirements in these regions is crucial to ensure the longevity and structural integrity of stone veneer installations.
An Overview of International Building Code Requirements
In recent years, international building codes have been updated to include specific requirements for exterior stone veneer installations in designated climate zones of the United States. As with all updates to national building codes, these code updates aim to address the potential moisture-related issues that can arise when a stone veneer system is installed improperly. Namely, in the waterproofing and underlayment process before the stonework can begin.
The Role of A "Ventilated Air Space"
Understanding the Ventilated Air Space and Benefits of Ventilated Air Space within Stone Veneer Installations
Stated in the Code, this drainage plane is referred to as "A Ventilated Air Space," a 3/16" minimum gap between the stone veneer and the underlying substrate, allowing air movement and releasing of any trapped moisture. This space acts as a drainage plane, ensuring that water and humidity are directed away from the building envelope, further reducing the risk of water infiltration and potential damage down the road.
How can this Ventilated Air Space Be Achieved?
Quality Stone Veneer offers 2 forward-thinking, code-exceeding solutions to this question.
The Quality Stone Veneer Patented Clip System™ Application Method – Mechanically Fastened Stone Veneer with a built-in drainage plane that is open and free of debris.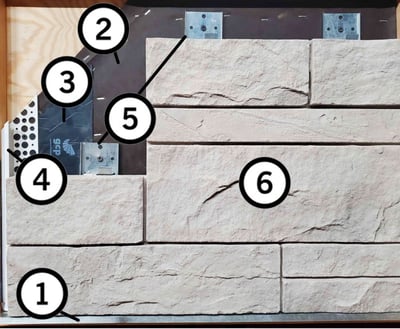 2 Inclusion of Drain Mat (6) in traditional mortar and wire lath installations.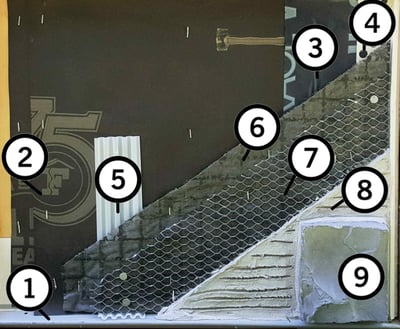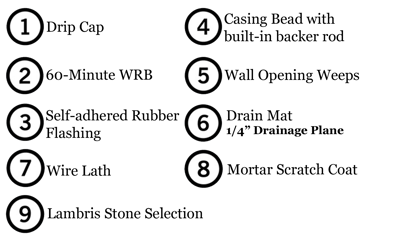 The Quality Stone Veneer Clip System™
Introduction to the Quality Stone Veneer Clip System: The Clip System's Solutions for Meeting and Exceeding Drainage Plane Requirements
Quality Stone Veneer, a leading stone veneer manufacturer and installer of over 45 years, first set out designing their patented Clip System™ application method and corresponding line of products over 15 years ago, with these foreseeable future code requirements in mind. From the very beginning, the Clip System was developed as a solution to provide a better performing manufactured stone product, offering a built-in drainage plane to promote proper ventilation and moisture management behind the stone veneer. This innovative system ensures that water is effectively channelled away from the building, preventing potential issues associated with moisture retention. The Clip System's drainage plane is clear and free of all debris, meaning it is the very best solution for moisture management, especially in ICC specified moisture sensitive zones of the US.

Ohio Drystack Lambris being installed via the Clip System™
Additional Benefits of the Quality Stone Veneer Clip System™
Enhanced Durability and Longevity, Simplified Installation Process, Design Flexibility and Aesthetics
The Quality Stone Veneer Clip System provides numerous benefits for architects, general contractors, and homeowners alike. Firstly, it enhances the durability and longevity of stone veneer installations by mitigating the risk of moisture-related damage. The system also simplifies the installation process, saving time and effort for contractors. Additionally, the Clip System offers design flexibility, allowing architects and designers to create unique and visually stunning stone veneer exteriors.
Not only does it provide these solutions for new builds, the Clip System allows for remodels to be completed more easily, with less cost and demo.
Modular shell storefronts, for instance, can easily be given an exterior facelift every so many years, as many commercial chains purposely plan for to stay relevant with current architectural design trends.
View more on the Clip System™ Here
Partnering with a Trusted Stone Supplier
The Importance of Choosing a Reliable Stone Supplier: Quality Stone Veneer, A Trusted Manufacturer and To-Code Installer of 47 Years
When embarking on a stone veneer project, it is crucial to partner with a reputable stone supplier that prioritizes quality, safety, craftsmanship, and compliance with industry standards. Quality Stone Veneer, committed to excellence and expertise from their manufacturing plant to the field, is an ideal choice for architects, contractors, and homeowners seeking high-quality stone veneer products that meet these latest international drainage plane requirements, and regional, ever-changing building codes.
With the new international drainage plane requirements for stone veneer systems, homeowners and architects in the US can enhance the value and durability of their properties. By understanding the importance of these requirements and choosing the right stone veneer products, you can transform your living spaces and create stunning focal points that stand the test of time.
Masonry Design Without Limitations
One of the critical considerations when selecting stone veneer is the color and style that will best complement your project. Quality Stone Veneer offers a virtually endless library to suit all architectural styles and personal preferences. Whether you're looking for a rustic stacked stone look, the modern charm of a ledge stone, or the elegant sophistication of a limestone block, Quality Stone Veneer has a style to meet your cultured stone needs.
Additionally, color selection is crucial in achieving the desired aesthetic. Quality Stone Veneer provides an extensive color palette, allowing you to choose from earthy tones, warm hues, or cool shades to create the perfect ambiance for your space. You can explore their Colors and Styles Libraries to get inspiration and visualize how different colors and styles can be paired can transform your living spaces.
Handcrafted Precast Architectural Details
Quality Stone Veneer offers precast accessories that add architectural detail and character to enhance your stone veneer project further. From window surrounds and column wraps to keystones and quoins, these accessories provide the finishing touches that elevate the overall design.\
Customization
This customization is another aspect that sets Quality Stone Veneer apart. They can work closely with architects, owners, and developers during a project's the early design phase to understand their vision and create unique, project specific, blends of stone styles and colors. This level of collaboration ensures the end design is tailored to your requirements, adding a stand out touch of individuality to your project.
Specifying Quality Stone Veneer, Inc. On Your Project
For architects looking to specify Quality Stone Veneer on their projects, the company provides CSI 3 Part Specifications for download on their website. These specifications offer detailed information on product installation, technical data, and performance characteristics, enabling architects to incorporate Quality Stone Veneer seamlessly into their design plans.
To showcase the versatility and transformative power of stone veneer, Quality Stone Veneer has an impressive portfolio of case studies. These real-life examples highlight stone veneers' diverse applications in interior and exterior settings. From backyard grill areas and patios to home exteriors, these case studies demonstrate how stone veneers can turn ordinary spaces into extraordinary ones.
Download Specifications, Resources, and Installation Guides Here
In Conclusion,
The new international drainage plane requirements for stone veneer systems are vital in ensuring interior and exterior stone veneer installations' structural integrity, longevity, and aesthetics. Adhering to these requirements, including providing a ventilated air space, is essential to mitigate the risks associated with moisture retention.
The Quality Stone Veneer Clip System exemplifies a solution that exceeds these requirements, offering enhanced durability, simplified installation, and design flexibility. On projects specified for a traditional mortar and wire installation, Quality Stone Veneer includes a drain mat as a company standard practice to provide drainage between the wall and stone. By partnering with a trusted stone supplier like Quality Stone Veneer, architects, general contractors, and homeowners can confidently incorporate stone veneer into their projects, knowing they are choosing a reliable and compliant turnkey solution, who care deeply about Quality.
Interested In Learning More?

"One Manufacturer. One Installer. One Source of Accountability."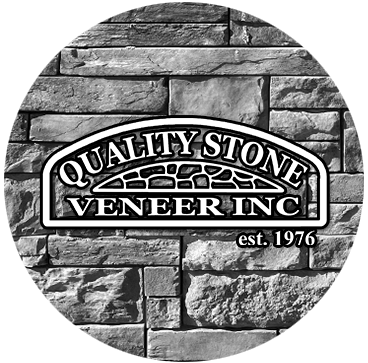 Quality Stone Veneer, Inc.
Serving builders, suppliers, homeowners and architects with a unique blend of exceptional manufactured stone and masterful installation since 1976.